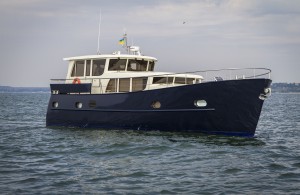 In April 2014 Sigo Marine Company launched the hull № 1 of Sigo 50 project. 50 feet steel motor yacht hit the water after one year of construction. We were going to have huge trial of the hull, equipment and riding performance of the vessel. Project was born as combination of Ocean yacht class A and comfortable house boat. Test-drive was divided on two parts, first of it took place from August 2014 till November 2014, the second from May 2015 till June 2015.
The motor yacht was trialed in rough weather conditions of the Black Sea, Aegean Sea, Biscay Bay and North Sea. 4 members of our crew spend 6 month on board. And now we can definitely tell you that we have done what 5 years ago seems to us impossible in Ukraine.
Below you can read the big article about our trip and adventure.
WARNING!!! After reading you will want to buy it !!! J